Being an active member of OWWA comes with a lot of benefits. Apart from the OWWA loan, social benefits, and educational assistance, OWWA also offers training programs to all its members, including their respective dependents.
Here are the available Training Programs you can avail of as an OWWA member: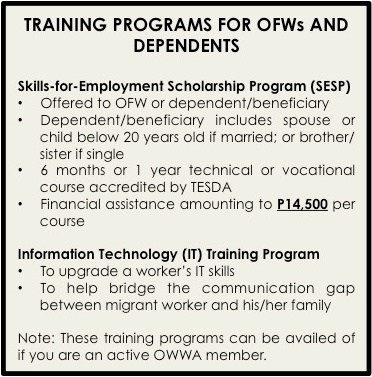 Skills-for-Employment Scholarship Program (SESP)
SESP is offered to active overseas Filipino workers or their dependents who wish to enrol in six months or one year technical or vocational course accredited by TESDA and other government institutions. Courses include but not limited to:
Massage therapy
Food and beverage services
Automotive servicing with driving
Commercial cooking
Bartending
PC Operation and Computer Hardware Servicing
Healthcare services
Caregiving
Housekeeping
Electric installation and maintenance
SESP is in a form of financial assistance amounting to P14,500.00 per course. In case you want to enrol, you may choose from the list of courses conducted by respective OWWA-accredited training providers.
Who is eligible? 
Applicant must be an active OWWA member to be eligible for this program. In case you want to pass this on to your dependent, it will only be limited to:
If married:  Your spouse or child below 20 years and must not be currently enrolled.
If single: Only your brother or sister below 20 years old is allowed to apply.
Other than this, the applicant must be a Filipino citizen and at least elementary graduate.
What are the requirements? 
Proof of OWWA membership if applicant is the OFW
Proof of relationship to OFW-OWWA member if the applicant is the dependent or beneficiary (marriage contract for spouse and birth certificate for the dependent).
One OWWA membership contribution to one SESP benefit while the succeeding SESP availments must be three additional membership contributions.
Accomplished application form
4 2×2 pictures (white background)
Photocopy of passport
School records such as diploma, report card, or Transcript of Records
Barangay clearance
After completing the training course, you or your beneficiary must pass Competency Assessment Test administered by TESDA or respective accredited testing center. Once you passed the assessment, you or your beneficiary will be awarded the National Certificate II (NC II), which you can use when applying for a job overseas.
Information Technology (IT) Training Program
Not everyone in the Philippines has access to computers or Internet compared to countries overseas. To bridge the gap, particularly communication gap between migrant worker and his/her family, OWWA introduced the IT Training Program exclusively for active OWWA members.
The IT Training Program aims to upgrade the worker's IT skills and at the same time, allows you to become more familiar and knowledgeable with the Internet and how you can use it to communicate with your family back home.
Active OWWA membership is also required for this training program.