Working as an Overseas Filipino Worker has a time limit. After two years (or depending on your employment contract), you have to go back to the Philippines and look for another work opportunity. This could also mean going through the same process of applying again.
Aside from this circumstance, there are instances when immediate repatriation is needed such as occurrence of a natural calamity or a case of political unrest. The good news is OWWA has programs that will help you in any of the two given situations.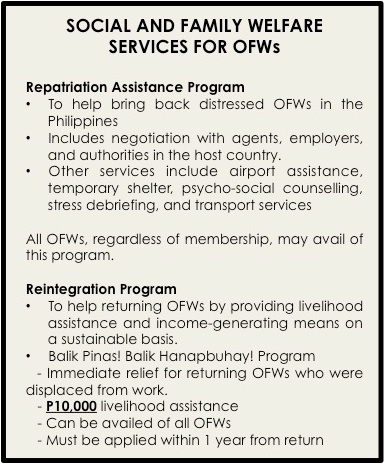 Repatriation Assistance Program
Repatriation means bringing distressed workers back in the Philippines. The program also includes negotiation with agents, employers, and authorities in the host country where you are located for immediate repatriation due to distress, physical or mental illness, or of human remains. Likewise, emergency repatriation is carried out in case of political unrest or natural calamities such as earthquake.
Services include:
Airport assistance
Psycho-social counselling
Temporary shelter at OWWA Halfway Home
Stress debriefing
Provision of transport services or fares to help you go back to your province
Regardless of OWWA member, all OFWs can avail of the Repatriation Program.
Reintegration Program 
Can you remember what OWWA loan is? This is in accordance with the P2-billion Reintegration Program alloted for Overseas Filipino Workers in providing income opportunities without leaving the country.
Reintegration program is the process of mainstreaming returning OFWs into the country. It offers livelihood opportunities to workers who don't want to go back abroad and at the same time, an income-generating means for OFWs and their families on a sustainable basis.
There are two major components of this program:
Economic – This includes social preparation programs for community-based income-generating and livelihood projects, lending, and skills training and credit facilitation.
Psycho-social – This includes stress debriefing, family counselling, community organizing programs for the concerned OFW, social counselling, and training on values formation and capacity building among others.
An example of OWWA Reintegration Program is the Balik Pinas! Balik Hanapbuhay! Program.
This program is a non-cash livelihood support or assistance program that provides immediate relief to returning migrant workers who were displaced from their jobs because of war or political conflicts in the country where they were deployed. This program is also intended for OFWs who were victims of illegal recruitment or human trafficking, got affected by policy reforms, and other distressful situations.
As part of this program, you will be able to get P10,000.00 livelihood assistance, which consists of techno skills and/or entrepreneurial training and starter kit/goods. You may also get other services to help you get back up on your feet through self-employment.
Take note that for this program, both active and non-active OWWA can avail of this program, which you have to apply within one year from your return. OFWs with finished employment contracts may not avail of this benefit.