The Overseas Workers Welfare Administration (OWWA) is a government agency tasked to promote and protect the welfare of OFWs and their beneficiaries. As part of this mandate, the agency has set forth several benefits to all its members.
Among them are the following: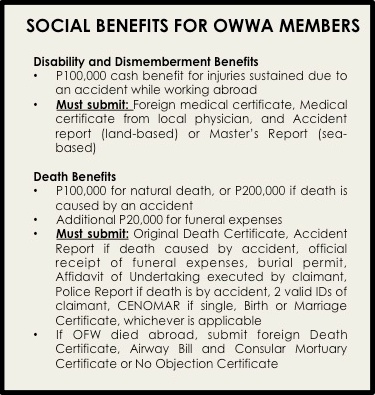 Disability and Dismemberment Benefits
You will never know what will happen to you when working overseas. This is why it is important to observe extra care and precaution to keep you safe and healthy at all times.
On the other hand, there are cases when accidents happen, no matter how careful you are in performing your duties at work. In case you sustained injuries due to an accident while working overseas, the OWWA provides up to P100,000 disability and dismemberment benefits.
Nevertheless, make sure you submit the following requirements to avail of this benefit:
Foreign medical certificate
Medical certificate issued by local attending physician. Make sure you attach medical examination procedure conducted such as X-ray, CT scan, or MRI.
Accident Report for land-based workers or Master's Report for seafarers
Death Benefits
Apart from accidents, death is another circumstance you don't want to happen. In case of death, the active migrant worker's family is entitled to receive P100,000 if the cause of death is natural, or P200,000 if death is due to an accident.
Aside from the said amounts, depending on the cause of death, the family of the deceased OFW will also receive another P20,000 for funeral expenses.
Below are the requirements needed to avail of death benefits:
Original Death Certificate issued by the local civil registrar or authenticated by National Census and Statistics Office (NCSO).
In case the OFW died abroad, beneficiary must submit Foreign Death Certificate, Airway Bill and Consular Mortuary Certificate or No Objection Certificate
Accident Report for Death due to Accident
Official Receipt of funeral expenses
Affidavit of Undertaking executed by claimant or Police Report if death is caused by an accident
Burial Permit
2 valid IDs and 1 ID picture of claimant
If deceased worker is single, submit Certificate of No Marriage (CENOMAR)
Apart from these requirements, the claimant must submit any of the following documents certified by Local Civil Registrar (LCR) or NCSO:
Marriage certificate, if claimant is the spouse
Birth certificate of the deceased OFW, if claimant is the parents
Birth certificate of the child and Death certificate of the deceased spouse, if the claimant is the child of the deceased migrant worker
In case there is no birth or marriage certificate, the following must be submitted:
Certificate from LCR showing that the birth or marriage certificate is not recorded in the civil registry
Baptismal or Marriage certificate certified by the Parish priest or office
Affidavit of two disinterested persons regarding fact of birth/marriage and claimant's relationship to the deceased and photocopy of two valid IDs
The concerned OWWA regional office will also provide psycho-social counseling to the family of the deceased OFW.
It is important that the OFW must pay $25 membership contribution to become an OWWA member and be able to enjoy these benefits.