As an OWWA member, you get to enjoy many benefits such as getting an OWWA Loan, social benefits, and even educational assistance. If you are a seafarer, the agency also offers an education program as part of its continuing effort to improve the skills and knowledge of every overseas Filipino Worker.
Introducing, the Seafarers Upgrading Program.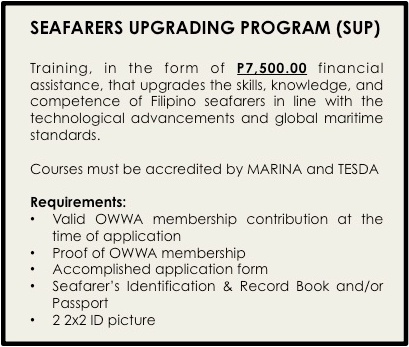 What is the program all about? 
Also known as SUP, the Seafarers Upgrading Program is a job-related training that helps upgrade the skills and knowledge, and develop expertise among Filipino seafarers. Over the years, there will be technological advances and constant updating of global maritime standards as provided for by the International Maritime Organizations (IMO). Through SUP, Filipino seafarers will not only be knowledgeable and skilled to cope with the changes globally but also equipped with competitive advantage.
The Seafarers Upgrading Program is in a form of financial assistance worth P7,500.00. OWWA will assume the costs of training and you get to choose your preferred training course that are accredited by Technical Education and Skills Development Authority (TESDA) and Maritime Industry Authority (MARINA). The accredited courses will also be conducted by OWWA's recognized training providers where you plan to enrol.
What are the courses offered? 
OWWA offers courses pertaining to Deck, Engine, Culinary, Specialized and Safety, and Galley and Steward Department.
OWWA updates its list of courses to keep up with the global standards. In 2016, OWWA expanded its coverage and included the following courses:
Ship's Catering Services NC 1
Advanced Training for Liquified Gas Tanker Cargo Operations
General Operator's Certificate for Global Maritime Distress and Safety System
What are the requirements to qualify for this program? 
Must have valid OWWA membership contribution at the time of your application. This membership contribution could be single contribution for first time availment or availed once every three contributions.
Proof of OWWA membership such as original receipt for payment of contribution
Accomplished application form
2 2×2 picture
Seafarer's Identification and Record Book and/or Passport
Take advantage of these courses to improve your skills and knowledge. You might need them in the future.