There are two types of Overseas Filipino Workers or OFWS: land-based workers or seafarers.
According to the Migrant Workers and Overseas Filipinos Act of 1995, overseas Filipino worker or migrant worker is a "person who is to be engaged, is engaged, or has been engaged in remunerated activity in a state of which he or she is not a citizen (land-based) or on board a vessel navigating the foreign seas other than a government ship used for military or non-commercial purposes, or on an installation located offshore or on the high seas." (seafarers)
Here's the next question: Can seafarers also apply for OWWA loan?
Read on to find out.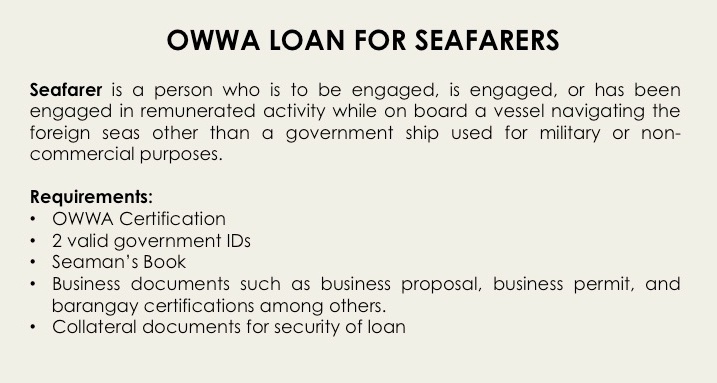 The P2-billion OFW Reintegration Program
The government provides many benefits for OFWs, whether you are land-based or working on seas. One of them is the OWWA loan under the reintegration program.
The main purpose of this program is to provide enterprise development intervention and loan facility for OFWs and their respective families. It also helps migrant workers to establish a viable business enterprise that could provide you a steady income and at the same time, create employment opportunities for people in your community.
Does this include seafarers?
The program does not define what type of overseas Filipino worker is covered by OWWA loan. Rather, the program highlighted "OFW who is also a certified OWWA member" as eligible borrowers, which means the borrower can either be land-based or a seafarer. At the same time, Overseas Workers Welfare Association or OWWA is mandated to provide programs for sea-based migrant workers including loan programs such as OWWA Loan.
This means as long as you belong to the OFW category, regardless if you are working on land or in the sea, you can avail of this type of loan facility. This also means as a seafarer, you can apply for OWWA loan in case you want to put up your own business allowed by the program, allowing you to borrow from P100,000 to P2 million.
Know more about OWWA Loan here.
Requirements for OWWA Loan for Seafarers:
In case you want to apply for a loan, you also have to submit certain requirements to process your application. This includes but not limited to:
OWWA certification stating that you are a bonafide OWWA member.
Special Power of Attorney (SPA) duly authenticated by the Philippine consul in case you are not in the Philippines.
Two (2) valid government IDs
Passport
Seaman's Book
Proof of Billing
Business documents such as business proposal / feasibility study, business permit, and barangay certification where the business is located among others.
Collateral documents for security of loan such as real estate mortgage or chattel mortgage.
For detailed list of requirements, click here.
When availing of OWWA loan, you also need to undergo Enterprise Development Training as part of the requirements. Click here to know more about this.
Keep in mind that you need to go through a process for the approval of your OWWA loan. This post will give you an idea as to the step-by-step process when applying for this type of loan facility.
It doesn't matter whether you are a seafarer or working on the ground. The government provides benefits for Overseas Filipino Workers for all the hard work and contribution you are giving to the country.