The Overseas Workers Welfare Administration (OWWA) is a government agency that follows a two-fold mandate
To deliver welfare services and benefits
To ensure capital buildup and fund viability
Aside from helping you fund your business venture through OWWA Loan, the agency offers other benefits, which you and your dependents can enjoy.
Read on to learn more about these benefits: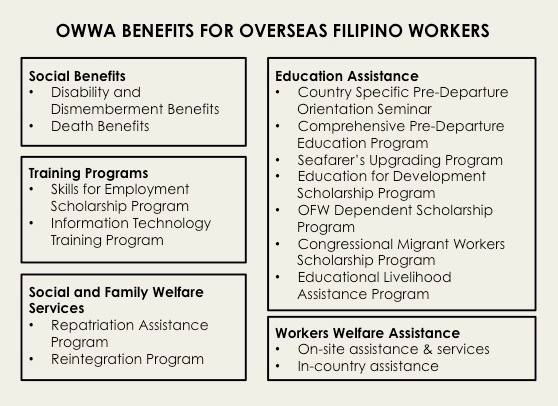 Social Benefits
Disability and Dismemberment Benefits – As an OWWA member, you can enjoy up to P100,000 for injuries sustained from an accident while working abroad.
Death Benefits – The family of the migrant worker may receive P100,000 for natural cause of death or P200,000 in case death is by accident. Aside from these monetary benefits, the beneficiaries will receive P20,000 for funeral expenses.
Education Assistance for OFWs and Their Dependents
Country Specific Pre-Departure Orientation Seminar (PDOS) – This is a one-day compulsory orientation that all migrant workers must attend before deployment. The aim of this course is to help OFWs adjust to the work environment and culture of their destination country, especially during the first few months of working overseas.
Comprehensive Pre-Departure Education Program (CPDEP) – This seminar must be attended by Household Service Workers (HSW) for four or six days. It is conducted by accredited NGO PDOS providers, which administers PDOS on the first day, and OWWA, which tackles culture, language, and stress management sessions in succeeding days.
Seafarer's Upgrading Program (SUP) – The program helps in upgrading the knowledge and skills, and in developing expertise among Filipino seafarers in line with the technological advancements and global maritime standards.
Education for Development Scholarship Program (EDSP) – This scholarship grant is offered to qualified dependents/beneficiaries of active OWWA members who want to enroll in a four- or five-year course in preferred college or university. Maximum financial assistance is P60,000 per year.
OFW Dependent Scholarship Program (OFWDSP) – This is an educational assistance to qualified dependents of active OWWA-member OFWs who want to pursue a four- or five-year course in state college or university.
Congressional Migrant Workers Scholarship Program (CMWSP) – This scholarship program is extended to deserving migrant workers and/or immediate descendants who want to take four- or five-year course in the field of Science and Technology.
Educational Livelihood Assistance Program (ELAP) – This scholarship program is for dependents of migrant workers who were active members of OWWA at the time of death.
Training Programs for OFWs and Their Dependents  
Skills for Employment Scholarship Program (SESP) – This is a training assistance program with OWWA where the applicant, whether OFW or beneficiary, can choose a training course from the list of OWWA-recognized training providers.
Information Technology (IT) Training Program – This is a computer literacy program and also helps OFWs and their beneficiaries upgrade their IT Skills.
Workers Welfare Assistance Program
On-site assistance and services
In-country assistance
Social Services and Family Welfare Services  
Repatriation Assistance Program – This program facilitates immediate repatriation of OFWs who are physically/mentally ill, and of human remains.
Reintegration Program – This program is intended to help OFWs in returning to the country by providing livelihood opportunities.
To enjoy these benefits, make sure you pay a membership fee of $25. It may cost a dent on your monthly income, but at the end of the day, it is best to be prepared because you will never know what will happen.