OWWA offers many benefits for its members. Aside from the OWWA Loan, the agency also provides education programs for all OWWA members.
Here's what you should know about this program: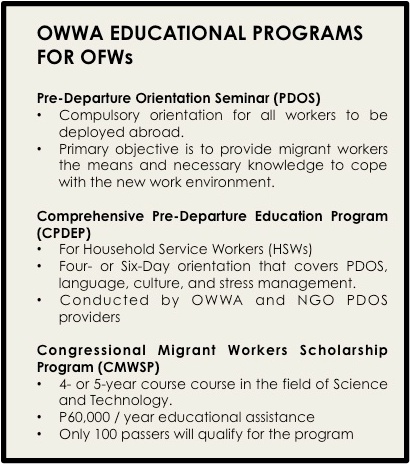 Country Specific Pre-Departure Orientation Seminar (PDOS) 
Before a worker is deployed overseas, OWWA provides pre-departure education programs to guide you and help you adjust to your would-be life. One of these programs is PDOS.
The primary objective of PDOS is to help OFWs cope with the new work environment, culture, and life during the first few months of working abroad.
Also, PDOS is a one-day mandatory and compulsory orientation to help overseas Filipino workers adapt and adjust to the work environment abroad. Since it is country-specific, this program allows you to get to know the language, religion, traditions, practices, culture, food, and way of life of your country destination. This helps minimize the possibility of "culture shock," feeling of isolation, or reduce fears when working overseas.
Take note that all workers of all skill levels are required to attend PDOS.
Comprehensive Pre-Departure Education Program (CPDEP) 
If you will work overseas as a Household Service Worker (HSW), then this education program is for you.
The CPDEP is a four- or six-day orientation seminar for all household service workers and conducted by both OWWA and accredited NGO PDOS providers.
On the first day, NGO PDOS provider will administer PDOS, which means you don't have to attend the compulsory PDOS mentioned above. For the remaining days, OWWA will handle culture, language, and stress management to help you cope with the demands and issues when working overseas.
Congressional Migrant Workers Scholarship Program (CMWSP) 
The government recognizes the skill and intellect of every Filipino worker. If you intend to pursue a Bachelor's Degree, OWWA can help you with that through Congressional Migrant Workers Scholarship Program.
In this program, deserving migrant workers and/or your child allows you to pursue a 4- or 5-year courses, specifically in Science and Technology. This is in pursuant to Republic Act No. 8042 or the Migrant Workers and Overseas Filipino Act of `1995.
Exam will be administered by the Department of Science and Technology (DOST) wherein only 100 passers will be qualified for the program. If you pass, you will be able to get an educational assistance of P60,000 per year from the PCSO to finance your schooling.
Note: As of this writing, the program is suspended due to the K-12 program. This program will resume on school year 2018-2019.