One of the projects offered by the Overseas Welfare Workers Association or OWWA is the Enterprise Development and Loan Program, popularly known as OWWA Loan. Its primary aim is to aid Filipino migrant workers to go back and stay in the Philippines for good through business enterprise development.
Here's the catch: if you wish to avail of the OWWA loan, you need to undergo Enterprise Development Training or EDT. In fact, it is one of the major requirements you need to comply with before your loan application is processed. Upon submission of your loan application, you need to show proof that you finished the course.
EDT has three phases, which you will learn more in detail below.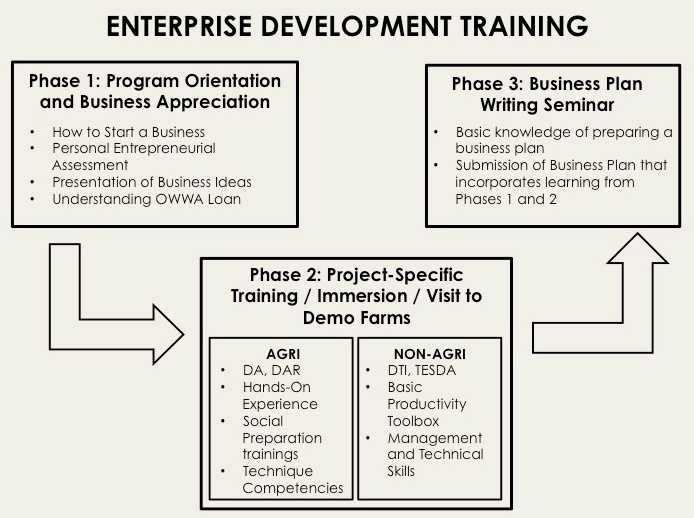 Phase 1: Program Orientation and Business Appreciation
In this phase, you will be introduced to the concept of business, understanding a business venture, and the qualities you need to posses to help you in running and maintaining your chosen field. There will also be Personal Entrepreneurial Assessment to help you identify your strengths and possible weaknesses in handling a business.
At this phase, you will also be asked to present your business ideas and draft your business plan. Experts will be looking into your business plans, so pay attention as to the areas of improvement.
In case you have questions on the OWWA loan facility, this is the perfect phase to raise them so you will have a better understanding.
Then, you can move on to the next phase.
Phase 2: Project-Specific Training / Visit to Demo Farms / Immersion 
Your chosen business enterprise can be divided into two categories: AGRI and NON-AGRI.
If your proposed business is in the agricultural sector, you will have project-specific trainings and hands-on experience with relevant government agencies such as Department of Agriculture or Department of Agrarian Reform. You will also have social preparations sessions where you will attend trainings on bookkeeping or record keeping, and other skills training such as food handling, marketing strategies, and developing production skills.
If you prefer a business venture that is non-agricultural, OWWA will refer you to relevant agencies such as TESDA and DTI. You will be taught management and technical skills applicable to your proposed business, plus networking techniques to help your business grow. You will likewise be given a Basic Productivity Toolbox as part of the Social Preparation Intervention.
After this stage, you will move on to the last phase.
Phase 3: Business Plan Writing Seminar
You already have a business plan at the start of your EDT. At this stage, you will be asked to incorporate all your learnings from phases 1 and 2 into your business plan. Land Bank will give you basic knowledge on how to prepare a business plan to boost your chances of approval.
Once you completed the three phases of Enterprise Development Training, you will be given a Certificate of Attendance to prove that you went through the process. Then, complete the other requirements needed to process your OWWA Loan application. Thereafter, you will be endorsed to Land Bank, where a 40-day verification period will run as part of the application process.
To know the schedule of EDT, you may contact the OWWA Office near you.