The OWWA Loan facility provides a promising venue for Overseas Filipino Workers to start a new life and provide a sustainable future for their families without leaving the country. Apparently, there are requirements you need to comply with to make sure your application for OWWA Loan is approved.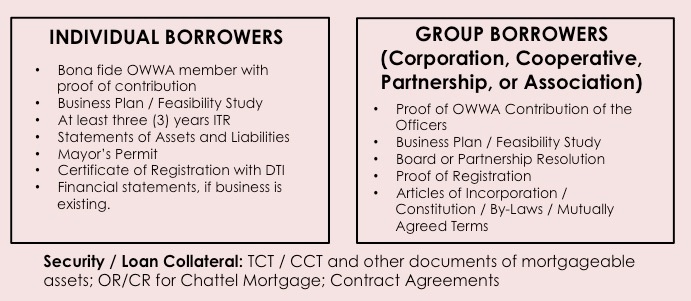 Here is a detailed list of requirements you need to submit if you are an INDIVIDUAL BORROWER:
Proof that you are a bona fide OWWA member.
Proof of OWWA contribution such as POEA-attested employment certificate, your passport with POEA-LAC stamp, E-card, or OWWA Information Sheet.
Business Plan or Feasibility Study of your proposed business. Take note that your business must be among the eligible projects allowed by OWWA.
Two (2) valid IDs with signature.
Barangay Certification as proof of residency based on your given address.
Proof of billing address.
Sketch of your place of residence.
Income Tax Return (ITR) for at least three years.
Statement of Assets and Liabilities.
Mayor's Permit where the business is/will be located.
Marriage Certificate for married borrowers or Birth Certificate for single availee.
Collateral / Security documents, whether real estate or chattel mortgage.
If the business is already existing: BIR-filed financial statements for at least three years, latest interim financial statements, and Certificate of Registration with the Department of Trade and Industry (DTI).
You must also complete the Enterprise Development Training, which will be discussed further in a separate post.
The OWWA also allows GROUP BORROWERS such as cooperatives, partnerships, associations, or corporations to avail of this loan facility. If you are borrowing as a group, here are the requirements you need to submit:
Proof of OWWA contribution, at least that of the officers.
Business Plan or Feasibility study of the proposed business.
Security / Collateral documents, which will be discussed further below.
Board or Partnership Resolution signifying intent to undertake or expand a business / project with the help of OWWA loan facility.
For Corporations: 
Proof of Registration with the Securities and Exchange Commission (SEC)
Articles of Incorporation
Ratified By-Laws
For Partnerships:
Proof of Registration with the Securities and Exchange Commission (SEC)
Mutually Agreed Terms
For Cooperatives
Proof of Cooperative Development Authority
Articles of Incorporation
For Associations
Proof of Registration with Department of Labor and Employment
Constitution
By-Laws
Keep in mind that the Loan Security or Collateral shall be any of the following:
Torrens Certificate Title (TCT) Condominium Certificate of Title (CCT), Tax Declaration, and other pertinent documents related to planned mortgageable assets.
OR/CR for Chattel Mortgage
Lease Rental Contract
Receivables
Other contract agreements related to the execution of Deed of Assignment or Purchase Order.
It is imperative that you comply with all the requirements so that your loan application will be processed as soon as possible. This way, processing of the loan and release of funds will be faster, thereby allowing you to start sooner in your business venture.