At this point, you know what OWWA Loan is, its main purpose, how it works, the business allowed by the loan facility, the requirements you need to comply with, and who the eligible borrowers are. It's time to bring them all together to guide you better in applying for this loan facility specifically designed for Filipino migrant workers.
Here is a step-by-step procedure on how to apply for OWWA Loan: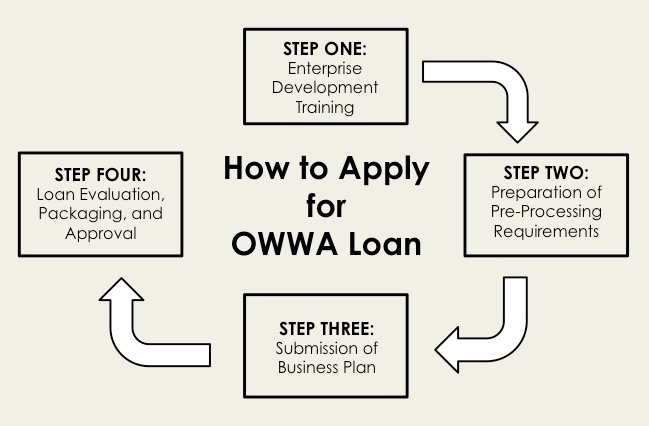 Step 1: Attend and complete the Enterprise Development Training or EDT. Learn more about EDT in detail here.
Step 2: Prepare the pre-processing requirements needed for processing of your loan application. This includes proof of OWWA membership, Certificate of Attendance foe EDT, and two (2) valid IDs among others. Check this post to know the detailed list of requirement you need to prepare before submitting your loan application.
Note: Make sure that your requirements are complete upon submission of OWWA Loan application. This will make it easier and faster for you to process your loan application. The requirements will be submitted either in OWWA Main Office or regional offices, whichever is more convenient for you.
Step 3: Submission of Business Plan to the Land Bank of the Philippines (LBP) upon certification and endorsement of OWWA. At this phase, LBP will evaluate your project proposal based on the borrower's credit worthiness and project viability. Likewise, Land Bank will package your loan application based on their credit facilities proposal.
Step 4: Loan evaluation, packaging, and approval. This will take 45 days upon receipt of loan requirements, which is why it is important that you prepare all the necessary documents when applying for an OWWA Loan.
Keep in mind that attending EDT and submitting all the requirements will not guarantee automatic approval. Credit institutions follow certain guidelines in approving every loan application and as long as you can show the viability of your proposed business and prove your credit worthiness, the higher your chances will be.