A Glimpse of What You Need to Know about OWWA Loan
The Overseas Workers Welfare Association or OWWA is a membership institution that conducts programs and offers services for overseas Filipino workers or OFW. Among the services the institution offers is applying for a loan facility. This gives you an opportunity to start a new life sans the burden imposed by commercial financial institutions.
If you plan to avail of OWWA loan, here's what you need to know about this facility before applying for one: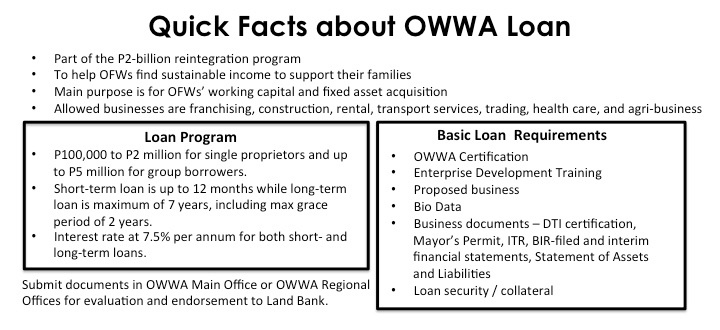 Basis of OWWA Loan Program
The OWWA loan is in accordance to the P2-billion reintegration program of the government to help OFWs not only find but also build sustainable businesses to support them and their families. This way, they won't have to go back abroad to make a living and generate sustainable income for the family.
Proposed business must be in line with any of the following:
Health care
Agri-business
Tourism
Franchising
Education
Construction or rental business
Transport service
Service or trading
Likewise, the purpose of the loan must be for working capital and fixed asset acquisition only and not for personal use.
The OWWA Loan Program
OWWA allows every overseas worker P100,000.00 to P2,000,000.00 for individual borrowers and up to P5,000,000.00 for group borrowers. You have an option to avail of short-term loan, which lasts for 12 months, or long-term loans shall not exceed seven years. For long-term loans, a two-year maximum grace period is included on the principal.
Interest rate for both short- and long-term loans is pegged at 7.5% per annum.
Basic Requirements
Only OFW applicants certified and endorsed by OWWA can avail of the loan program, which will be coursed through by Land Bank. To be certified, the applicant must comply with the basic requirements:
Overseas worker applying for the OWWA loan facility must provide a certification from OWWA to prove his/her status as bona fide OFW.
The applicant must attend and finish the Enterprise Development Training.
Submit proposed business together with purchase order and service contract or contract growing agreement.
Applicant must likewise present copies of, but not limited to the following:
Bio-data of the applicant
Certificate of Registration with DTI
Mayor's permit where the business is located
Income tax return or ITR for at least three years
BIR-filed financial statements for at least three years, if applicable
Statement of assets and liabilities
Interim financial statements, if available
Loan security or collateral, which could be the object of financing or mortgageable assets like project assets or other assets of the borrowers
Where to Submit
Once you have the necessary documents, submit the requirements in OWWA Main Office located at F.B. Harrison St., Pasay, Metro Manila. You can also submit the requirements in the nearest regional office near your area. OWWA regional offices are located in various cities in Luzon, Visayas, and Mindanao.
Loan evaluation, processing, and approval will be completed within 45 days from submission of complete requirements.